We've tried to make it as easy as possible for you to customise the background for the Privaposts logo to use in your posts, Instagram highlights, snapchat, twitter, cover photos and anywhere else you'd like :)
First we will provide the logo's with transparent backgrounds so that you can copy and paste the logo onto any image and create any background you like
Then we will provide some pre-made Instagram highlights
Followed by a set of instructions on how to use a site like Canva to customise your highlights
How to save logos:
Desktop: Drag and drop into folder
Mobile: Press and hold finger on image to bring up the save / copy menu, then save :)
TRANSPARENT LOGOS
Privaposts Gradient Circle
(You can put this around your profile photos for social media)
INSTAGRAM HIGHLIGHTS COVERS
















How to Make Custom Instagram Highlights Covers
In order to make custom Instagram Highlights covers, you'll need access to any free graphic design platform. Our favourite is Canva.
Step 1:
Open your Canva account and type "Instagram Story" into the search bar and scroll to the bottom.

Step 2:
Click on the template for "Instagram Story" when it appears. Now you'll have the perfect sizing for your Instagram Story highlight cover.

Step 3:
Choose "ELEMENTS" from the sidebar and then click "GRAPHICS" – now you'll be able to search through different illustrations to choose icons for your Instagram Story highlight covers. There are plenty of options including free icons and paid icons. Alternatively, you could create text-based highlight covers using Canva's text options.

Step 4:
After you choose the icon you want as your custom Instagram Highlights cover, just choose a background color, and click "Download." Make sure the icon isn't so large that parts of it will be lost during Instagram's circular cropping.

Step 5:
Send it to your phone, go back to Instagram, and post it as a new Story. To do that, just go to your home feed and swipe left. When you've chosen the photo you want to use as your icon, be sure to pinch the screen to zoom out as much as you can. This will ensure that parts of your icon aren't cropped off when you use it as your cover.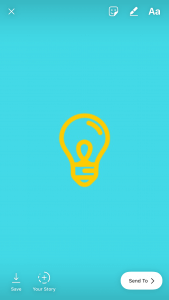 Step 6:
You'll need to add this image to the Highlight so it becomes eligible as a custom Highlight cover. To do that, from your profile, just tap and hold on the Highlight you want to customize and choose "Edit." You'll land on a screen like this: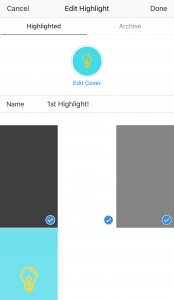 You'll see the option to choose which Stories are in or out. If you swipe right, you'll see your Story Archive. Slide over and select your icon if it's not selected already. You'll want your custom Instagram Highlights cover story at the end so people don't miss the actual Highlight.
Step 7:
Swipe back to the "Highlighted" tab. You should see that the Story with your icon is included at the end. Tap "Edit Cover" and choose your icon using the slider on the bottom. You can pinch and drag to zoom and position the icon before you finalize the cover. When you're finished, just tap "Done."